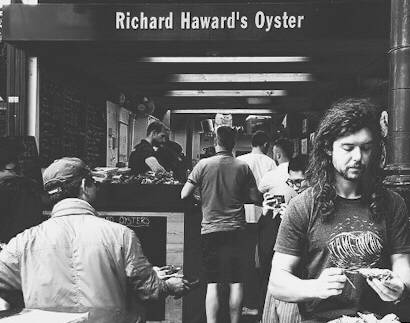 Borough Market is situated in Southwark, near London Bridge, and is a bustling hub of foodie delights. We orginally began selling our Mersea oysters at the market in the early 2000's, and saw the city's love for our oysters grow.
Recently we acquired a permanent stand on Stoney Street, enabling us to expand our trade, giving us the ability to store more oysters and provide a place for people to sit and slurp our delicious mollusc.
We are also licenced, so come and enjoy a chilled glass of wine to accompany your oysters. See below for our opening times, and then come and visit us! We're looking forward to seeing you.

Order your oysters online today and collect them from our stand at Borough Market or have them delivered straight to your door.

Our award winning oysters are grown and caught in the creeks surrounding Mersea Island in Essex by Richard Haward, seventh generation oysterman, and his sons Bram and Tom, who are eighth generation. These oysters grow in the River Blackwater, providing all the nutrients they need, giving them their wonderful taste, and enabling us to produce the highest quality oysters.
Buy our oysters online or at Borough Market.
Due to Covid-19 we are open but for TAKEAWAY ONLY. As the country is now in a National Lockdown, we cannot allow customers to consume oysters at the stall. We will not be serving alcohol. Please wear face coverings and use the hand sanitiser provided. Face masks are mandatory at the market. Thank you for shopping with Richard Haward's Oysters.

Sunday: CLOSED

Monday - Friday: 10am — 5pm

Saturday: 8am — 5pm

TAKEAWAY ONLY - you can pre-order your oysters by choosing collection at the checkout.